How do you create an inviting atmosphere in your children's ministry area both in and outside of the classroom?  Many children's workers use music and special lighting to add an intriguing ambiance which their kids love.  Some churches have designed entire themed buildings, entryways, and rooms.  With an average church size in the US being around 75 on Sunday morning, a marvelous and exceptionally cost effective idea is using Bible story murals.  Here are some pictures by artist and designer Doug Westbrook of Katy, Texas, who offers over 50 styles of  murals to create colorful and exciting environments for children's ministries. The murals are produced on durable vinyl and can be cleaned with mild soap and water.  Colors remain vibrant and last for many years.
Bible Story Murals are enjoyed in churches throughout the United States in Sunday School classrooms, nursery and preschool areas, children's church rooms and day care centers.  (Pictures below)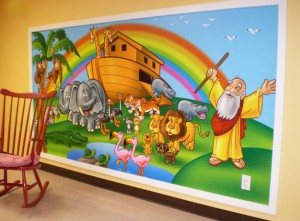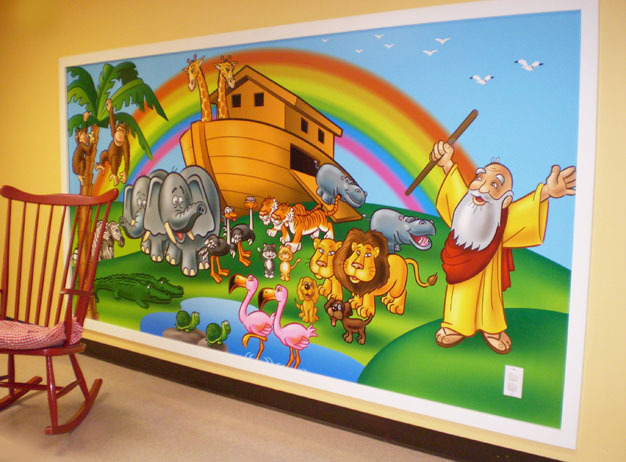 Although there are animated style murals for nurseries and preschool areas, most of the murals depicting Bible stories are rendered in a realistic style.
Many churches have installed 10 to 20 Bible Story Murals in the hallways throughout the Sunday School area, creating a tour through Bible History.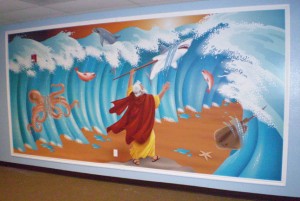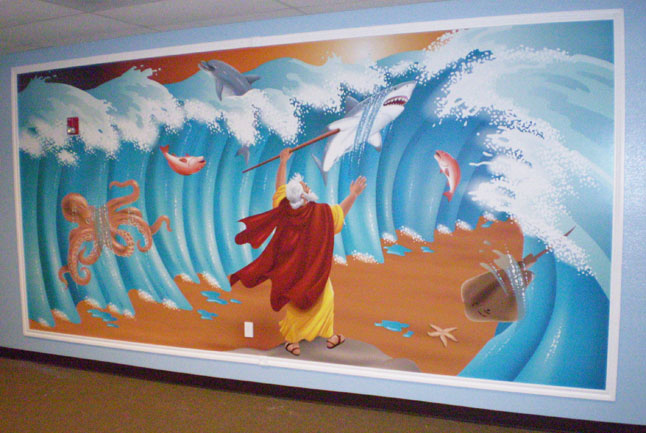 Murals do not have to cover the entire wall to be effective. The most popular size is 5 ft high x 10 ft wide.
Most murals are installed by stapling the murals to the wall and then applying pre-painted wood moulding over the stapled area. This type of installation allows easy removal and reinstallation in another area if the murals need to be moved in the future.
For more pictures check out Bible Story Murals.
You can also post your ideas of how you used murals or created atmosphere below.