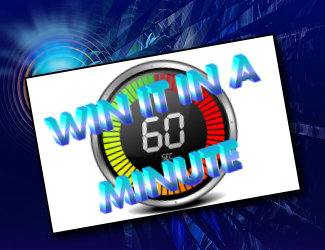 Download this COMPLETE Kids' Service with ANY DONATION!
When you make a donation below to support the ministries of Children's Ministry Today, you receive this HIGHLY INTERACTIVE KIDS' SERVICE as our "Thank You!"
Thank you for supporting Children's Ministry Today! May God's Greatness be with you and your ministry!
'Win It In a Minute' is an exciting, game-oriented lesson that is a spin-off of the popular TV game show, Minute to Win It, in which the volunteer has 60 seconds to complete an odd, humorous challenge using various household objects. The concept of this game show has inspired many teachers and pastors to incorporate the 60 second game challenges into their classrooms, kids' camps, or weekly services as ice breaker games. It is one of the ultimate forms of fun when it comes to involving your kids, yet why stop with just using this innovative method for icebreaker games when you can actually use it to involve your kids while teaching Biblical truths such as the plan of salvation?
Win It in a Minute Theme Day Service does just that – it takes your kids through the adventure of MITWI-style humorous challenges with household objects while explaining God's vital plan of salvation, resisting temptation, Bible reading, and prayer.  Download "Win It in a Minute" for a Donation of Your Choice today!
Enter
(Note: After making your donation securely via PayPal, you will straightway receive an email with a download link.  If you do not see the email, please check your possible junk mail folder.  You can always contact us at: cmiv@childrensministryvault.com – Pastor Gary)
Leaders who enjoyed this article also liked these...