Scripture:
John 3:16 "For God so loved the world that he gave…."
Ephesians 1:3 "Praise be to the God and Father of our Lord Jesus Christ who has blessed us in heavenly realms with every spiritual blessing through Christ Jesus."
1 Corinthians 13:5 Love "…it is not selfish."
Props: a sealed envelope with a letter inside, a dollar bill, an offering envelope
Presentation: Leader discovers an envelope. He holds it up for all to see. Well look at this! This envelope must have been left here for someone special." (He smells it.) "Hmmm, hmmm! This sure smells pretty! It must be a love letter. Who do you think that it's for?"
"You know, when someone is in love, they'll give all kinds of gifts and cards to their 'Sweety-pie.' That's right! You know why? Because in 1 Corinthians 13:5 it says that love is not selfish. That means that if you love someone, you'll find it easy to give gifts, time, and all kinds of things to the person you love."
"Should we read the letter? Let's do it." Open the envelope and read the letter out loud with a shocked look. "Well, obviously whoever wrote this is willing to give something to his or her 'honey bunny!'"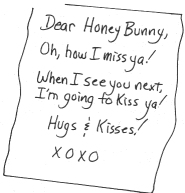 "You know, God loves us so much that He gave all that He had to us in His son, Jesus."
"Kids, we say that we love God. If we really do, we will also gladly give to God. We will give our tithes and offerings. We will give our time in Bible reading and prayer. We will give of our talents. Let's not be selfish with these things, but give to God!"
"Sometimes adults put their tithes or offerings in an envelope when they give. Today, let's think of that offering envelope as an envelope which we may use to send some of our love to God." Place the dollar bill in the offering envelope. "Let's send him a 'love letter' with our tithes and offerings to show Him that we love Him with all of our hearts."
Copyright © 1999 Rev. Randy Christensen
This sample lesson is from the e-book "Tithe Talks Vol. 2 ".