Scripture: Romans 5:8 But God demonstrates His own love for us in this: while we were still sinners, Christ died for us.
Leviticus 27:30 …the tithe…is the Lord's.
Props: dry erase board, marker, eraser
Presentation: (Write time on the left of the board.) We show people that we love them by spending time with them. We also may show Jesus we love him by spending time with Him. That could be time at church, reading our Bibles, praying, singing, and stuff like that. If we love him, we will give of our time to Him.
(Write talents in the center of the board.) God has given each of us
special talents. We should use those talents to help others and to show our love to the Lord.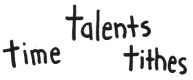 (Write tithes on the right of the board.) God also asks that we give of our money. When you give 10% of what you have to God, that's called a tithe. Now I understand that sometimes it's hard to give of your time to God. (Point at time.) Sometimes it is hard not to be nervous about giving of your talents. (Point to word.) It's even harder yet for some people to give their tithes! (Point to tithes.)
We need to understand that if it wasn't for God, we wouldn't have any of these things. (Erase all letters, except for the t's. Draw the hill across the bottom of the t's.)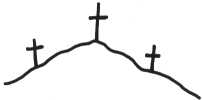 Jesus has given so much to us. He even gave His life! Certainly we can give back to Him what He desires. Give of your time, your talents, and your tithes and offerings.
Copyright © 1996 Rev. Randy Christensen, www.randysinfo.com
This sample lesson is from the Tithe Talks Vol. 1 book.
Leaders who enjoyed this article also liked these...