In the Old Testament, there was this idea that parents needed to be an integral part in their children's lives. In fact, this idea even went so far as to place the parents in the prime role of responsibility when it came to instructing their children in how to live life for God. In the book of Deuteronomy, we find this admonition from the Lord, given to the people of Israel, after their redemption from Egypt . Deuteronomy 11:18-21 says this, "You shall put these words of mine in your heart and soul, and you shall bind them as an emblem on your forehead. Teach them to your children, talking about them when you are at home and when you are away, when you lie down and when you rise. Write them on the doorposts of your house and on your gates, so that your days and the days of your children may be multiplied in the land that the Lord swore to your ancestors to give them, as long as the Heavens are above the earth." Where has that gone? Where is family devotions and instruction in our homes today?
I believe that in this post-modern society that we live in, the need for children to experience God in a devotional time with Him, is more important than ever. Children are daily barraged with experiences and images that challenge their faith. Some of those challenges come from personal interaction with peers, others from all sorts of media. Yet the saddest truth is, all too often, children are not being guided in the home and are not being equipped to live their lives as the followers of Jesus that they can be. Children need a devotional life, but they need someone to teach them how to have one. They need parents to engage in the process with them, as the parents of the Old Testament were so automatically accustomed to do.
The great news is…you can do it! That's right, you, the parent, can help give your child one of the best foundations spiritually possible. You can help develop a devotional life in your child and you won't even need the children's pastors to help. I believe that the above passage from Deuteronomy teaches us three key ideas to helping us foster a thriving devotional life in our children.
1. Be the Model
As a parent, you have the option to be a spiritual champion in your child's life. Now I don't say that to scare you, it's the truth. As children's pastors and volunteers, we have the privilege of ministering to children on an average of only 52 hours a year. That is slightly over a total of two days. As their parent however, you get to spend the majority of the remaining 1,196 hours a year, making a difference in your child's life. When it comes to influence, I think it is safe to say that the scale of impact tips slightly toward you as the parent. This means that your children will be shaped most by you. If you are seeking a strong devotional life in your children, you must be the one to model it for them. Let them see you on the couch doing devotions in the morning. Let them hear you talking with your spouse about what God is doing in your life. Include them in you conversation and sharing. Most of all spend time every day, sitting down with them and engaging God's Word together. Let them read the Bible, find passages, give their input, and pray together. Let them see from you, that spending time away from everything else and focusing on God, is important, fun, and something that is easy enough for them to do. If they see you excited about God and what takes place during your devotional life, they will want to follow your model as they seek to be like Mom or Dad. You can do it!
2. It's An All Day Thing
Life with God does not stop and end and neither should personal or family devotions. The physical time set-apart for specific Bible reading with your children may start and end, but the content and how it affects your family lifestyle should carry on throughout the day. This aspect of having a devotional life is perhaps one of the keys to helping children become excited about making devotions a daily discipline in their life. Children must come to see that time spent with God in doing devotions, is not merely something to be checked-off some "to do list." Much like a kick-off is just the start to an exciting football game, children need to see and understand that devotions are the spring board into how God will work through them, in each and every day of their journey. As you, "Teach them (God's Word) to your children, talking about them when you are at home and when you are away, when you lie down and when you rise"(emphasis mine), and as you share life with your children, they too will see their ongoing journey with Christ only begins, in their devotional time.
3. The Rewards Bring Life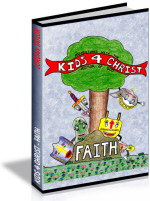 Just as God brought the people of Israel out of Egypt , and into a promised land, He has brought you and your family out of a downward spiral of sin and into a new life with Him. He has given you the greatest privilege of all… to live life. If that wasn't enough, He made it even better by allowing you to share this life with your spouse and children. Making devotions a priority, modeling it for your children, and equipping them to do the same, will bring great rewards. Now I am not promising everything will be perfect, nor does Jesus. But God does promise, "so shall my word be that goes out from my mouth; it shall not return to me empty, but it shall accomplish that which I purpose, and succeed in the thing for which I sent it" Isaiah 55:11. I happen to believe that since Jesus Christ is "the way, the truth, and the life" (John 14:6), that if we are diligent in allowing our children to come to Him, and teaching them to have a vibrant devotional life focused on Him, the rewards Jesus gives will be nothing short of showing them the way, helping them live the truth, and inviting them in the journey of life, as it is life with Jesus.
May you come to see that you can be the spiritual champion of your child's life. May you have a blessed devotional life as a family and be amazed as God does awesome things in your lives. Most importantly, may you believe in the promises of God, that as you draw near to Him, and as you teach and watch your children draw near to Him, that He will be nearer and nearer to you! God bless you, your children, and your family's journey together in Jesus!
Journeying with Him, and with Much Love,
Jordan D. Taylor
CMT Contributor


Jordan Taylor is receiving a Bachelor's Degree in Children's Ministry. Jordan makes his authoring debut with his first installment in a series of children's devotionals entitled, Kids 4 Christ: Adventures with the Armor of God.
Visit Jordan's website at Starting Point Kids