Items Needed: 3 juggling balls, 3 juggling scarves
James 1:22 says, "Do not merely listen to the word, and so deceive yourselves. Do what it says." In other words, if you are only a hearer of the Word–you hear it at church but don't do it–you deceive yourself. You are lying to yourself to think that "hearing" is all that God expects of you. You are lying to yourself to think that you are a Christian if you only listen to what God says, but don't do it.
Sometimes we tell ourselves that we just can't do the things that God expects us to do, that we just aren't good enough. Maybe you feel like a failure. There isn't any reason to feel that way! It's like this.
(Begin to try to juggle 3 balls.) Now, I am not a juggler. I've tried to learn to juggle balls several times, but it's a hard thing to do and I fail. But there is a reason for that. Most juggling books or videos will tell you that you first need to begin with something easier, with scarves.
(Juggle scarves) Now, scarves I can do. Once a person is very good with juggling something easy like the 3 scarves, it's easier to learn to juggle 3 balls. This is very similar to being a doer of God's Word. You should start by doing the easier things.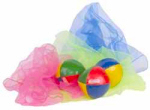 Work hard at listening to God's Word when you are at church. Work hard at reading God's Word and praying when you are at home. Work hard at obeying your parents, telling the truth, being honest, listening to the Spirit.
As you make a conscious effort each day at doing what God says in the easy things, it will become easier to do what God says when your faced with the more difficult challenges, such as resisting peer pressure, controlling your temper, controlling your language, and thinking clean thoughts.
Don't deceive yourself by being just a listener. Start now by doing all the right things you can do– the easier things–and the harder ones will become easier, too.
Gary Linn
Leaders who enjoyed this article also liked these...