Supplies: 24 rolls of toilet paper, six laundry baskets (or empty boxes), and masking tape (or orange cones).
How to play: Using masking tape (or orange cones), divide the playing area into two even squares with a line in the middle. Place two laundry baskets at the back end and one in the middle of each square. Place four rolls of toilet paper in each laundry basket. (See below for an illustration.) Divide the group into two even teams, each starting the game in a different side of the dividing line. One player from each team guards each laundry basket standing no less than 3 feet from the basket. He is called the goalie. On GO, players go to the other team's side and pick up rolls of toilet paper out of the laundry baskets and place it in any of the laundry baskets on their side.. Players can only grab one roll at a time. If tagged by the goalie, players freeze until a teammate tags them in order to be freed. If a player is tagged while holding a roll of toilet paper, he must give it to the player who tagged him to be put back in the laundry basket. Whichever team has the most rolls of toilet paper in their team's laundry baskets at the end of the game wins. Play for 5-7 minutes per round and play as many rounds as time allows.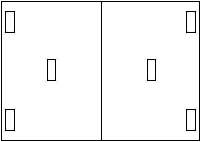 Promotional Image – Click to Enlarge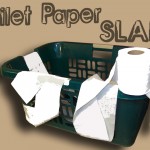 You can find more of Nick Diliberto's ideas in the Outlet Mall!
10 Over the Top Games for Preteens Ebook Download
10 Over the Top Events for Preteens Ebook Download
10 Relevant PowerPoint Games for Preteens Download